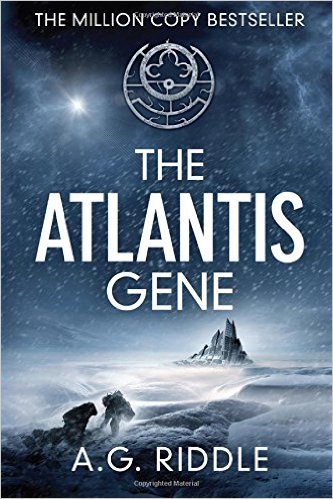 Read the novel that started it all. The Atlantis Gene is the first book in The Origin Mystery, the global bestselling trilogy that is now in development to be a major motion picture.
Over 2,000,000 copies sold worldwide * Translated in 23 languages * Published in 32 countries
Check Out What Readers Said about Kindle/eBook!
"This book was written for me, I swear. I just finished it after 3 days of neglecting everything else in my life, and thought, "Finally, the powers that be created a story teller who is capable of writing 500+ pages in which every single word is completely to my tastes."
The history and the theories behind evolution, religion, autism, Atlantis…well I'm a complete sucker for all of that and Riddle played them perfectly. He wove together several different theories and myths that many people wouldn't associate but it's incredibly believable and makes you want to put your thinking cap on and theorize right along with him." By Holly Y
"I'll be honest, the only thing keeping me going with this book was the desire to write an authoritative review of it; to warn others to steer clear. Then, after I was finished, I read the author's note. This is a debut book by an indie author, a guy following his passion, who acknowledges that this is not a perfect book and seeks feedback. And that's part of the reason I picked it up in the first place, I liked the idea of someone with an (overly) ambitious story, bringing it to life and the community (overly) supporting it. So I'm not going to snark out and eviscerate this book as I was planning, but as the author requests, here are my thoughts:"  By Jonathan Cronin
Product Details
Author: A.G. Riddle
Kindle price: Hardcover $28.33 Paperback $8.80
Series: The Origin Mystery
Paperback: 464 pages
Publisher: Riddle Inc. (April 5, 2013)
Language: English
ISBN-10: 1940026016
ISBN-13: 978-1940026015
Product Dimensions: 6 x 1.1 x 9 inches
Shipping Weight: 1.7 pounds (View shipping rates and policies)
Average Customer Review: 4.1 out of 5 stars See all reviews (13,724 customer reviews)
Amazon Best Sellers Rank: #1,295 in Books